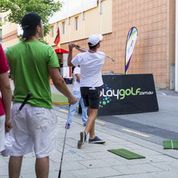 About halfway through September in a city called Portland Oregon a festival kicks off that serves to promote and celebrate the sport of golf.
However this is not golf as you know or have seen it before. This festival is for a special brand of golf known as Urban Golf.
Players have swapped greens and fairways for gutters and highways for a new style of golf that is fast spreading around the world. No longer are players concerned with making par, now the most important thing is making it over that car.
In Australia we have been taking part in this festival for 8 years with this year's event being held on Saturday the 11th October in Newcastle NSW.
Up to 100 people who may or may not have ever set foot on a course will pick up clubs, put on their finest tweed and argyle to play a street course using specially adapted clubs and balls.
The group organising this, Urban Golf Australia have spent the last 10 years growing their sport in co-operation with players and clubs from all over the world.
Throughout 2014 the UGA has been working with groups like Golf Australia to introduce people to golf through Urban Golfing and have been able to hold events across Australia including in Perth, Adelaide and Newcastle as part of the PlayGolf WEEK.
This year has also seen the UGA release a range of specially adapted clubs, balls and clothing making it easier than ever to get involved in the sport.
For more information about how you can play, put on or generally get involved with urban golfing simply head on over to the page at www.australianurbangolf.com or www.facebook.com/Australianurbangolf
https://www.live4golf.com.au/wp-content/uploads/2014/09/Urban-Golf-Day.jpg
178
178
Live4Golf
https://www.live4golf.com.au/wp-content/uploads/2019/09/live4golf-logo.png
Live4Golf
2014-09-09 01:43:53
2014-09-12 03:00:20
World Urban Golf Day hits Australian shores