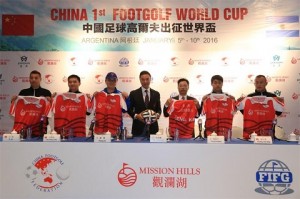 Shenzhen, China: Mission Hills will be leading the cheering when a four-strong China team kicks-off its campaign in the second edition of the FootGolf World Cup.
As the driving force behind the introduction and development of FootGolf in China, it was fitting that Mission Hills should be the venue for the formal announcement of the China quartet for the Argentina gathering from January 6-10.
Comprising national team players Edison Luan Chen, Ji Jie, Liu Mengyang and Zhang Yunlong, the Chinese team will be aiming to stamp its mark on the global stage at the Pilar Golf and Country Club, some 60 kilometres from Argentina's capital city of Buenos Aires.
More than 300 players, representing 30 countries and regions, will be vying for glory at the World Cup.
Alfredo Carlos Bascou, Minister and Deputy Director of the Embassy of Argentina in China, said his country is excited about hosting the FootGolf World Cup and believes the tournament presents the chance to develop the game in China and globally.
He said: "FootGolf is an official sport in Argentina recognised by Argentinian Sports Federation.
"Participating in the World Cup in Argentina will be an excellent opportunity for China to promote FootGolf in its own country. The role of the Federation [in China] is very important and the role of the Government in supporting the Federation is very important also."
Registered in Hong Kong last March, the China FootGolf Federation was officially established by the Mission Hills Group. As Asia's first FootGolf federation it is committed to promoting and developing FootGolf in China and the region.
Tenniel Chu, Mission Hills Group Vice Chairman, said: "Mission Hills is proud to have played such an integral role in developing FootGolf in China.
"My belief that FootGolf has the potential to become a mainstream sporting activity has not wavered.
"We wish the China team well as it embarks on its World Cup mission. A strong performance in Argentina will certainly help to build further momentum for Footgolf here in China."
The sport has the same basic rules and concepts as golf, except players kick a football rather than use traditional clubs and golf balls.
Chu said: "We have seen that football and golf can be perfectly combined into an enjoyable pastime for players and fans alike. As a new and exciting way, FootGolf can introduce even more people to golf.
"China has 26 million footballers and 200 million football spectators and fans, the most of any country in the world. So we are tapping into an entirely new audience with this venture."
Last October, Mission Hills opened a public FootGolf course. Green fees are priced at a reasonable RMB100 [about US$15] for nine holes and RMB180 for 18 holes – considerably lower than the costs for a round of golf.
Chu said: "We want to make this sport bigger. In 2016, more golf clubs will join the China FootGolf Federation allowing footgolfers to experience more courses at different golf clubs."
A recent survey of FootGolf facilities, conducted by the American FootGolf League, revealed the sport is generating millions of dollars in new revenue for courses installing FootGolf.
https://www.live4golf.com.au/wp-content/uploads/2019/09/live4golf-logo.png
0
0
Mathilda
https://www.live4golf.com.au/wp-content/uploads/2019/09/live4golf-logo.png
Mathilda
2016-01-07 08:46:52
2016-01-07 08:46:52
Chinese Quartet Aim for Glory in FootGolf World Cup