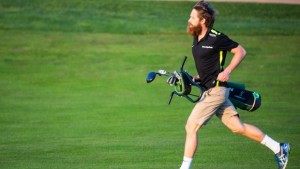 The best golfer on planet earth will be playing in Rotorua this month, but it's not what you think.
Irishman Rob Hogan is the current speedgolf world champion, and has won two speedgolf world titles, in 2013 and 2015.
He will join Kiwi speedgolfers for the New Zealand Speedgolf Open on January 23-24 at Rotorua Golf Club, and Hogan will be the obvious favourite.
Speedgolf sees players add the time spent completing the round to their actual score, which sees rounds of 18 holes often completed in less than an hour.
In fact, with Hogan on hand, there is a chance he could be finished his round in 30 minutes flat.
"[Hogan's] an interesting character with his distinctive ginger beard and sense of humour," Rotorua Lakes Council major event coordinator Jason Cameron said.
"He claims to have the best beard in professional golf since Old Tom Morris. In addition to that he is a pretty handy golfer – he once played golf professionally.
"While Rob's here, he will run a speedgolf clinic for us at Rotorua Golf Club and I'm sure he'll have a few tips on how you can play 18 holes in under 40 minutes."
Hogan's fastest round in competition was just 33 minutes in London in 2015, and he took out the world title with a final round 78 in 2015, which took him only 40 minutes to shoot.
Defending national title holder Landyn Edwards will be Hagan's closest competition, having won the 2015 New Zealand title when finishing a full round in just under an hour.
Given Hogan's worst finish in three years of speedgolf is second place, another title should be on the cards this month.
https://www.live4golf.com.au/wp-content/uploads/2019/09/live4golf-logo.png
0
0
Mathilda
https://www.live4golf.com.au/wp-content/uploads/2019/09/live4golf-logo.png
Mathilda
2016-01-09 09:36:22
2016-01-09 09:36:22
Speedgolf world champion Rob Hogan to play at New Zealand championships