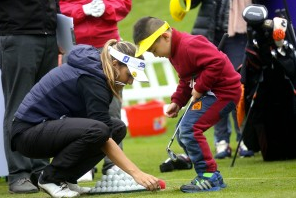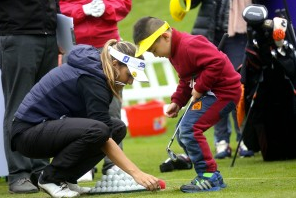 Dongguan, China: Potential stars of the future showed off their golfing skills during a fun-filled Junior Clinic at the Mission Hills Golf Academy.
For just over an hour, World Ladies Championship participants Nicole Garcia of South Africa, Korean Jeong Hye-yoon and China's Li Zi entertained more than 20 children at the gathering.
As well as displaying how to strike a range of different shots – high, low, long and short – the professionals took part in a Skills Challenge that also involved the youngsters, aged between six and 16.
"It was good to see the children having fun and enjoying themselves," said Garcia.
Tenniel Chu, Mission Hills Group's Vice Chairman, said: "For more than 20 years, Mission Hills has placed a strong emphasis on junior golf development.
"The staging of clinics such as this not only allows the children to interact with professional golfers, but also they are able to pick up tips in a relaxed and friendly environment."
The children that attended the clinic were made up of Mission Hills Academy students, players from the Mission Hills Junior Series and pupils from the Mission Hills International School.
While the elder participants hit chip shots to a target area, the younger children competed in a putting competition, racing against the clock.
Sam Green, Business Development Manager at Mission Hills Golf Academies and a PGA professional, said he was impressed with the improving standard of junior golfers coming through the various programmes on offer at the club.
"It's great to see so many children learning the game here at Mission Hills," said Green, who estimates that 40 per cent of the 25,000 hours of coaching that takes place annually at the Mission Hills Academies is dedicated to juniors.
"The fact that the winning scores in our Junior Series events is often under par is evidence of the overall improvement we're seeing among the children," added Green, who has been based at Mission Hills for the past four years.
In its continuing efforts to nurture and encourage young golfers, Mission Hills allows all those who pass a proficiency test to play for free at the Zhang Lianwei-designed par-three course on the Dongguan site.
"The proficiency test is half practical and half etiquette. It's wonderful that the kids who come through that can then progress to playing on a proper course for free," said Green.
https://www.live4golf.com.au/wp-content/uploads/2016/03/2016-03-18_1523.png
198
296
Mathilda
https://www.live4golf.com.au/wp-content/uploads/2019/09/live4golf-logo.png
Mathilda
2016-03-18 15:24:39
2016-03-18 15:24:39
Kids to the Fore at World Ladies Championship Junior Clinic