On Friday 28 September, Brookwater Head Professional John Collins is packing up the car and heading out on a nine-day long Drought Relief Tour around western Queensland, offering affected communities the opportunity to participate in golf clinics.
During the trip, John and his PGA Trainee Chris Crooks is going to visit nine different golf clubs in drought affected areas, and will be conducting free junior, ladies and beginner golf clinic in attempt to take residents' mind off what can only be imagine as a extremely stressful period.
"We want to get the farmers off their land and try to give them some mental relief more than anything while doing something different than worrying about the drought they're going through," PGA Pro John said about the initiative.
"Being a country boy myself I do understand a bit of what they are going through at the moment and I'm finally in a position where I can actually give something back, and this is the way I'm going to go about it."
It was after watching a segment on Channel Nine asking people to donate money the idea of a drought relief tour, in the shape of golf lessons, came to the award winning coach's mind. "I thought I would do something slightly different than donating money, and in the area of golf, which is my chance to give back to all these different communities," John said.
"I feel it's the least I can do."
The PGA in Queensland has provided the duo with a vehicle to drive for the duration of the trip, but the initiative is otherwise entirely self-funded, with John taking annual leave from his regular job at Brookwater Golf and Country Club.
All equipment needed for the approximately hour-long clinics is also provided by John and Chris, including clubs, balls, markers and various training aid. The golf clubs, communities or regions involved are assisting in promoting the event, trying to get as many people aware as possible.
With pure ambitions to create memorable experiences during times of hardship, the pair is now looking for assistance to help cover the cost for the nine-day trip John Collins – Sponsorship
If you wish to help or want more info about the Drought Relief 2018, please contact John on Ph 0403 716 931 or via email on jcollins@pgamember.org.au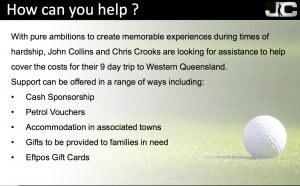 ABOUT JOHN COLLINS
Based at Brookwater Golf and Country Club in Queensland, John Collins is an award winning Professional Golf Coach (2016 QLD teaching professional of the year) providing a range of coaching services and is focused on helping golfers of all ages and skill levels achieve their goals.
John has been a fully qualified golf professional for over a decade after completing his traineeship at the Royal Queensland Golf Club. Having played on the Australasian circuit and Gateway Tour in the USA, he's picked up key experience from some of the best names in the game.
ITINERARY DROUGHT RELIEF TOUR 2018
Day 1 September 28th – St George (PM clinics)
Day 2 September 29th – Blackall (PM clinics)
Day 3 September 3th – Blackall (AM clinics)
Day 4 October 1st – Winton (AM & PM clinics)
Day 5 October 2nd – Longreach (AM clinics) & Barcaldine (PM clinics)
Day 6 October 3rd – Barcaldine (AM clinics) & Tambo (PM clinics)
Day 7 October 4th – Tambo (AM clinics) & Charleville (AM clinics)
Day 8 October 5th – Charleville (AM clinics) & Roma (AM clinics)
Day 9 October 6th – Roma (AM clinics) & Chinchilla (PM clinics)
https://www.live4golf.com.au/wp-content/uploads/2018/09/2018-09-26_1248.png
622
1113
Mathilda
https://www.live4golf.com.au/wp-content/uploads/2019/09/live4golf-logo.png
Mathilda
2018-09-27 12:25:53
2018-09-27 12:25:53
PGA Members giving back to drought stricken farmers – You can help!