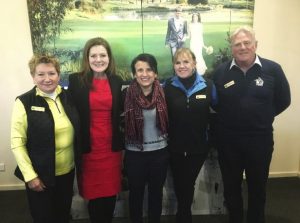 Patterson River Golf Club took its first key step in the Club's journey to support promotion of Golf as a highly engaging, accessible and fully inclusive sport for women and girls both now and into the future.
"Bring a Friend Day" was the brainchild of Head Professional Alan Patterson to encourage the Club's Women Members to invite a female friend they knew who had rarely or never played golf before and accompany them on the course as well as enjoy a lunch in the upstairs function room afterwards. It was a creative introduction for female non-golfers to allow them to have an experience at a Golf Club in a fun, sociable and non-intimidating environment.
The event was crafted by the Club to support Golf Australia's announcement of their Vision 2025 Strategy. The Strategy's the key aim is to promote more female participation in Golf. Golf Australia had launched the Strategy in the early part of 2018 to address the alarming facts that women currently only make up 20% of Golf Club Members and only 5% of Golf teaching professionals on average Australia-wide.
Overall, everyone had a fantastic day at Patterson River with over 60 women attending. The event included playing a full 9 holes of golf (modified Ambrose with larger than normal holes). Many of the friends invited by Members were playing a full 9 holes of golf for the very first time!
The Club was extremely fortunate to have the National Female Participation Manager from Golf Australia, Chyloe Kurdas and also Member for the Victorian Legislative Assembly of Carrum, Sonya Kilkenny attend the event. Both women had the opportunity to speak during the luncheon. Sonya Kilkenny's message was that women need to "Get into Golf" and that it was a "A fantastic way to spend some really quality time with some great women out on the course and look at what we got here… this is beautiful".
Chyloe's message was "Vision 2025 is more of a movement than a marketing strategy. Golf Clubs need to break down the current "barriers" for females and be more welcoming, inclusive and accessible for women and girls so that female participation in the game can grow."

Patterson River Golf Club will continue to actively support the Vision 2025 Strategy and will look at hosting more Women's & Girls events in the near future.
Those interested in future events and/or the Club's current women's beginner clinics and other activities are encouraged to contact the Club on Ph (03) 9772 1855 to find out more.
https://www.live4golf.com.au/wp-content/uploads/2018/10/2.jpg
656
883
Mathilda
https://www.live4golf.com.au/wp-content/uploads/2019/09/live4golf-logo.png
Mathilda
2018-10-14 07:53:29
2018-10-16 16:10:44
Patterson River GC takes first swing in support of increasing female participation