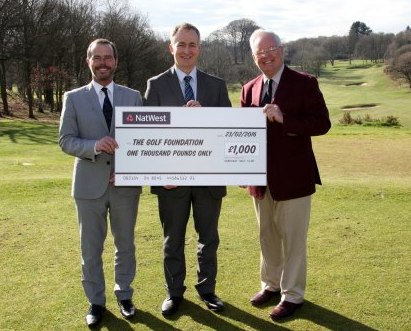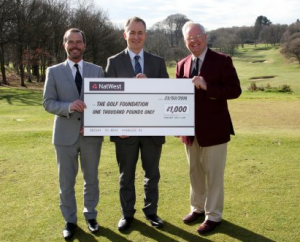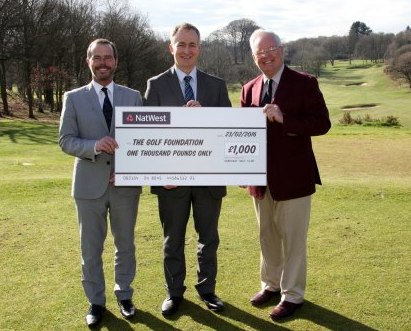 Members of Sandiway Golf Club in Cheshire have shown their support of junior grass roots golf by agreeing to add an optional extra £2 to their membership subscriptions and raise £1,000 for the Golf Foundation.
The Golf Foundation is the nationally recognised charity which provides young people of all backgrounds and abilities with the opportunity to enjoy golf and the benefits it has to offer.
By agreeing to this simple but important £2 addition to their subscriptions, Sandiway GC members are making a highly significant contribution to the Golf Foundation's aim of helping young people to 'Start, Learn and Stay' in the sport.
Though supported by leading golf organisations, the impact of the Golf Foundation's work is limited by the resources available. However, the charity's national programme 'HSBC Golf Roots', which creates a player pathway from school and community golf to the golf club and regular play, is enjoying successful results that can be even further improved with greater funding.
Working with the development bodies of England, Wales and Scotland, last year the Golf Foundation offered a first try of golf to more than 500,000 young people, helping to produce more than 3,600 new junior members in England alone. Since 2011, the Foundation has helped introduce more than 2.5 million young people to golf in the UK.
Brendon Pyle, Chief Executive of the Golf Foundation, said: "These figures are exciting as they help to show the potential for the growth of junior golf at club level.  With the assistance of golf club members this charity aims to create 10,000 new regular junior players per year by 2018 and see over 50,000 juniors going through the gates of a golf club.
"This is why the backing from our golf clubs is so important and why the '£2 per member' subscription option is a genuine winner. For the price of a post-round cup of coffee or less than the cost of a golf ball, club members can make a massive difference to junior participation at a stroke; it really is that simple if the will is there."
Brendon added: "Sandiway Golf Club offers a fantastic example of how club members care about encouraging the next generation of young golfers and they deserve great credit. We now want members from far more clubs to read this and understand the simple, important and dynamic fundraising opportunity that can be created nationally if more clubs added £2 to member subscriptions."
Anthony Roberts, General Manager at Sandiway Golf Club, said: "The Committee were more than delighted to support junior charity the Golf Foundation and including the optional donation at our membership renewals time was an excellent idea."
Helping the Golf Foundation in this way is straightforward. Club managers can go to www.golf-foundation.org now and find a specially created template letter which they can download to send to their members and present the case for 'opting in' and adding £2 to their annual subscriptions.
HSBC Golf Roots and the Golf Foundation www.golf-foundation.org
Source: golfbusinessnews
https://www.live4golf.com.au/wp-content/uploads/2016/03/2016-03-10_0835.png
331
411
Mathilda
https://www.live4golf.com.au/wp-content/uploads/2019/09/live4golf-logo.png
Mathilda
2016-03-10 08:36:35
2016-03-10 08:36:35
How '£2 per member' can boost junior golf